Map of Leicester- England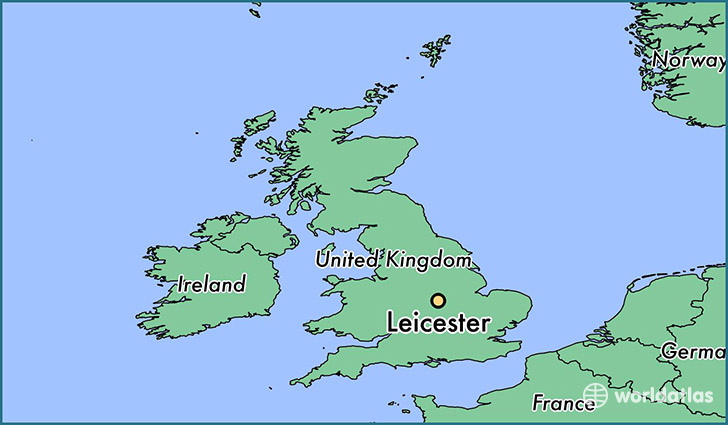 Leicester is a city and unitary authority are in the East Midlands of England, and the county town of Leicestershire. The city lies on the River Soarand at the edge of the National Forest. It is the burial place of King Richard III. Unlike almost every other city in the UK, Leicester has retained a remarkable record of its past in buildings that still stand today. Leicester has the largest economy in the East Midlands.
Area: 73.32 km²
Population: 329,939
Language
English is the Official Language, although eight ethnic languages are sometimes heard Gujarati is the preferred language of 16 of the city's residents, Punjabi 3, Somali 4 and Urdu 2. Other smaller language groups include Hindi, Bengali.
Currency
The Pound is the official currency of Leicester and England.
Climate
Leicester experiences a maritime climate with mild to warm summers and cool winters, rain spread throughout the year, and low sunshine levels. The nearest official Weather Station was Newtown Linford, about 5 miles (8.0 km) northwest of Leicester city centre and just outside the edge of the urban area. However, observations stopped there in 2003. The current nearest weather station is Market Bosworth, about 10 miles (16 km) west of the city centre.[citation needed]
The highest temperature recorded at Newtown Linford was 34.5 °C (94.1 °F) during August 1990, although a temperature of 35.1 °C (95.2 °F) was achieved at Leicester University during August 2003. More typically the highest temperature would reach 28.7 °C (83.7 °F) – the average annual maximum. 11.3 °C (52.3 °F) days of the year should attain a temperature of 25.1 °C (77.2 °F) or above.
The lowest temperature recorded at Newtown Linford was −16.1 °C (3.0 °F) during January 1963. Typically, 54.9 air frosts will be recorded during the course of the year.
Rainfall averages 684.4 mm per year, with 1 mm or more falling on 120.8 days. All averages refer to the period 1971–2000.
Health and security 
Leicester Partnership NHS Trust provides high quality integrated mental health, learning disability and community health services, Private and Public hospitals.

Leicester is a very safe city to visit. Police takes all crimes very seriously and understand the effects of crime can be distressing. Be assured that Leicester Police and its partner agencies are committed to detecting crime and bringing offenders to justice.
Transport
Air
East Midlands Airport (EMA), at Castle Donington 20 miles (32 km) north northwest of the City is the closest international airport and can be reached by car or on frequent bus routes. From here both scheduled and charter operators provide regular passengers services. The airport is also a significant national hub for the mail/freight networks of the major distributors.
Alternatively, Birmingham Airport (BHX), located 38 miles (61 km) west southwest of Central Leicester, is about a 45 to 60 minute drive and can be reached by train, changing at Birmingham (New Street). London Luton Airport (LTN), about 74 miles (119 km) to the southeast, can be reached in 1 h 30 mins to 1 h 45 mins by road or main line train services. Heathrow Airport (LHR) is a 102 miles (164 km) 2 – 3 hour journey to the south by motorway, or rail travelling on East Midlands Trains & LUL/Heathrow Express/Heathrow Connect.
Leicester Airport (LRC) is a small airport located some 6 miles (10 km) east of Leicester City Centre and does not currently operate scheduled services.
Buses
Leicester has two main bus stations: St Margaret's Bus Station and the new and re-commissioned (May 2016) Haymarket Bus Station.
There are three permanent Park and Ride sites located at Meynells Gorse (Leicester Forest East), Birstall and Enderby; buses operate every 15 mins from all sites. The park and ride services are branded as quicksilver shuttle and are contracted to Roberts Coaches from the City Council and County Council, buses use a purpose built terminal near St. Nicholas Circle.
The main bus operators for Leicester and the surrounding area are Arriva Fox County, Centrebus, First Leicester, Hinckley Bus (Part of Arriva Midlands), Kinchbus, Leicester Bus, and Stagecoach Midlands.
National Cycle Network
National Cycle Network Route 6 passes through Leicestershire along with other secondary routes. The Leicester Bike Park is also located in Town Hall Square. 'Cycle Works' Bike Mechanic Training Centre is located in Wellington Street Adult Education Centre and former Central Lending Library.
Rail
Mainline rail
The rail network is of growing importance in Leicester, and with the start of Eurostar international services from London St Pancras International in November 2007 Leicester railway station has gained connections at St Pancras station to Lille, Brussels and Paris onwards.
InterCity services are operated by East Midlands Trains providing connectivity on 'fast' and 'semi-fast' services to London and the south east, and to major cities and towns in the East Midlands and Yorkshire in addition to providing local services within the East Midlands region. Trans-regional services to the West Midlands and East Anglia are provided by CrossCountry, enabling connexions at nearby Nuneaton onto the West Coast mainline and at Peterborough with the East Coast mainline.
The 99 miles (159 km) from Leicester Railway Station to London St Pancras International on the Midland Main Line, are covered in an average of 1h 25m during the morning peak, with journey times as low as 1h 06m later in the day. Transfers onto London Underground or Thameslink train services to London City or West End add another 15 to 25 minutes to the journey time and to Canary Wharf, double. The journey time to Sheffield is around one hour, with Leeds and York taking approximately two. Birmingham is 50 minutes away and Cambridge via Peterborough can be reached in around 1 hour 55m with further direct services available onto Stansted Airport in north Essex.
Great Central Railway
The decommissioned Leicester Central railway station is located on the late Victorian Great Central Railway line that ran from London Marylebone northwards. Beeching closed the route in the late 1960s. A preserved section, however, remains operational in the East Midlands centred on Loughborough Great Central railway station providing touristic services through central Leicestershire, passing Swithland Reservoir on to the Leicester North railway station terminus.
Road
Leicester is located at the midpoint; Junctions 21, 21A and 22, of the primary English north/south M1 motorway between London and Leeds/York. This is where the M1 motorway transects with one of the primary northeast/southwest routes; the M69 motorway/A46 corridor linking to the A1 and M6 motorway at Newark-on-Trent and Coventry respectively. The M42 motorway towards Birmingham Airport terminates in North West Leicestershire some 12 miles (19 km) west northwest of the Leicester urban area.
Leicester is located at the nexus of the A6/(A14), A50, A47 and A607 trunk roads and A426 and A5199 primary routes.